Be prepared on August! BE PREPARED!
WHY? Cos ... while Britney is busy divorcing again, screwing up her parenting skills and singing motherhood songs, Christina is going to challenge the Jazz, Blue and Soul legends ... Check it out man!
extract fron www.christinaaguilera.com


Christina Aguilera Goes Back To Basics, New Album Due August 15th
Paying tribute to the music that inspired her, pop icon Christina Aguilera will release her third studio album,
Back To Basics
, August 15th on RCA Records. A modern take on vintage jazz, soul and blues from the 1920s, '30s and '40s, the album is wildly inventive with a throwback style creating a sound that's gritty and raw.
Back To Basics
reunites her with producer Linda Perry as well as creating new collaborations with producers such as DJ Premier.
The sexy first single, "Ain't No Other Man," produced by DJ Premier and Charles Roane, is set for release on June 12th. It will be world-premiered on the MTV Movie Awards on June 8th.
"This is a concept album that follows a bold, set vision," stated Aguilera. "The touchstones are Billie Holiday, Otis Redding, Etta James and Ella Fitzgerald.... what I used to call my 'fun music' when I was a little girl."
Back To Basics
utilizes an orchestra, choir, string quartet and jazz horns, as well as techniques that offer a vintage sound and sensibility. "I Got Trouble" incorporates a scratchy blues feel, while "Candy Man" recalls the tight harmonies of all-girl groups from the '30s and '40s "Save Me From Myself" is an emotionally naked, raw-sounding song dedicated to her husband. "Thank You," dedicated to her fans, features DJ Premier splicing bits of "Genie In A Bottle" with fan voicemail messages. Also sure to appeal to Aguilera fans is the risqué song "Nasty Naughty Boy" (which has a '20s burlesque feel) and the club track "Still Dirrty," assuring her fans that she's "still got the nasty in me, …still got that dirty degree…still got that freak in me."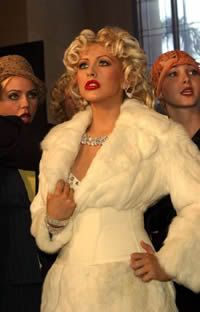 AGH!!! I LOVE HER! She's unstop-able....nyek nyek nyek!