When 3 bimbo had never bake muffin their whole life and decided they should try making it just to try ... it's anticipating story to see what turns out at the end. After hours of researching and hours of reading, we've decided to get the instant muffin and try baking with it. If you go wrong with instant muffin ... you will go wrong with anything ...
Methods to bake Chocolate Chip Muffin
STEP 1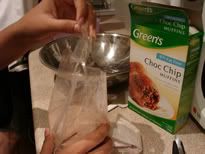 Get a 5dollar instant 12-muffin from any supermarket. Tips; look for the word 'Instant', a step to step behind the box and make sure it's 'chocolate chip muffin'. Don't make a mistake ya! (if you think of the trouble going all the way to get the muffin, it is not so instant afterall)
Then, empty the entire packet of chocolate alike powder into a mixing bowl ... and read the instructions behind!
STEP2
Instructions says; put in an egg and 250ml water ... So ... put those in! Tips; Try putting the egg and water a little by little. Mix while adding. Then, stir the mixture until it turns into what Grace called "chocolate plasticien"
STEP3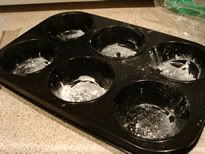 Grease the muffin pan with a little butter and flour so it won;t stick - which is also from the instructions! ... I feel so dumb
STEP4
Preheat the oven for about 5-6minutes on fan-force for 160C. Of course, this temperature vary according to the muffin instructions that is behind the box ... I am beginning to feel dumb"er" ...
Then, put the muffin "plasticien" into the muffin tray. Add chocolate chip if you are a big fan of it. We did... and then look at the instructions again for more guidance (-_-"')
STEP 5
After a 25min bake ... TADA! ... a small miserable muffin ... erm ... 6 actually ...
STEP 6
Of course, being the diva Eva is ... she would not put that "dry-ugly" thing into her mouth... so, we've decided to melt some chocolate and pour the hot sauce onto the muffin, sprinkle a lil cinnamon sugar ... and wah lah ~~~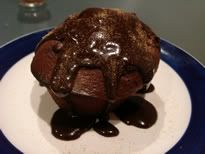 Taste not bad la ... but still ... no more 2nd time for me ...