Post is actually for sunday
Had my first music festival celebration today - The Darwin Music Festival at Northcote. Actually, I was filling in for Eva (since she had other matters to attend to) as a crew membe for shooting Greg Walsh (a local old time songwriter-singer). BTW, it's for a documentary assignment. Greg, also a friends of ours, was one of the five finalist for the song-writing competition. So, the girls was just adding materials for their documentary. Anyway, the festival was awesome - shops were all open on sunday, selling heaps and heaps of food, people brought their kids, dogs and lovers but the weather was the give-away (it rained)... Why don't we have something like that in Malaysia??? So ... back to the festival, the competition was fun. Every contestant gave their best performance. Sadly, Greg didn't win but he was complimented for his "1920s" jazz style and unique voice. So ... I shall shut-up and let the pics tell the enjoyable moments at the festival ...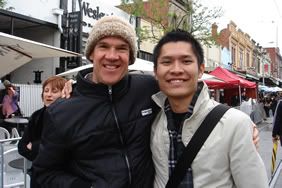 Greg Walsh and me @ the street
Grace and me!
My 4dollar lunch. Am not sure what is it called but it taste very different and quite filling.
People still having fun despite the weather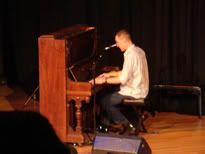 Greg giving his best shot for the competition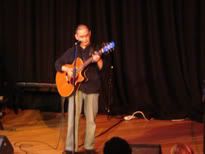 One of the finalist ... His song is really funny - it is called,
Short People are Sexy
. LOL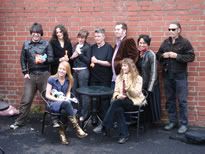 The winners for the competition
Ok ... after a whole lots of fun. Grace treat me to a Korean food (which I have anticipated for a very very long time!). We went to this place called Seoul House between Lonsdale St and Russell St. It was recommended by ALST. Thank you ALST so so so so much. The service was top notch! Polite, friendly and very very helpful. I love that place. PICS PICS PICS!
The korean version of Okonomiyaki. My most favourite! *yum yum yum
Me eating Okonomiyaki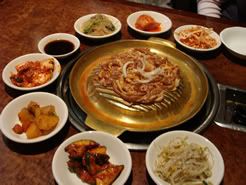 The Korean BBQ setup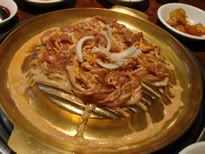 Chili BBQ pork - VERY YUMMY!
KIMCHI!!!! *nyam nyam nyam
HotPot Seafood - nothing special.
The very authentic - Rice Green Tea! Yummy!
Thank you grace! Hmmm ... I think I am going back that place again quite soon or maybe I should extend my masters program to Korea! Haha, since I love the food so so much. BTW, did I mentioned about their steel bowl and long spoon. LOVE IT! I tell you, I
WILL
have that Korean set cutleries next time in my home!
WILL HAVE'em!!!
I am so hungry now thinking of the dinner. Thank gawd I bought a bucket of Kimchi. Ok ... That's enough for today. Going to eat my kimchi now ... hehehe