K-Mart lost my bike. I bought a nice Tempas Men Bike (Silver and Red) last 2 weeks and they lost it while I left my bike for them to assemble it for me. Can you believe it ??? It's like buying something from Ikea, left it for delivery and you HAD to call them up (since your purchased didn't arrive) to ask for your status of purchase and they reply you; "Sorry sir, we can't locate your purchase ... I think we lost it" ... I was suprised. They put me through the list to deal with the store manager. The store manager can only get back to me on Tue. I am stunned and I have no idea what I am going to do ...

On the other hand, the girls and me went for our 1st picnic on Sunday replacing the innitial Friday one. Friday was hectic. Many people came over and fixed up the house. We got B/Band finally but no router. Our sink is running well now. The rubbish which was stocking up in our bin was finally disposed and our washing machine which broke down a week ago is now running fine. By the time our house was done, we were too tired to prepare a picnic. Eva and I ended up buying groceries while Grace went for her photography class. It was a sad friday. We slept early and did not go anywhere.

Saturday was nothing much. Sat at home and did homework only

Sunday picnic ... *Hehe* I finally got the time to download, edit and upload the pics!



The picnic bag which we got. Actually, I took it from someone's front yard. They threw it out to be recycle. Most of the people here do that, some "hard-greens" - Jamie, our wonderful-cute landlord told us. People just gather their cupboards, branches, old electronics and those unwanted stuff and stack'em up outside to be taken away. I was jogging, saw it, examine it and took it ... since it was still fine. We love it! (the bag of course, not the taking people's thing part)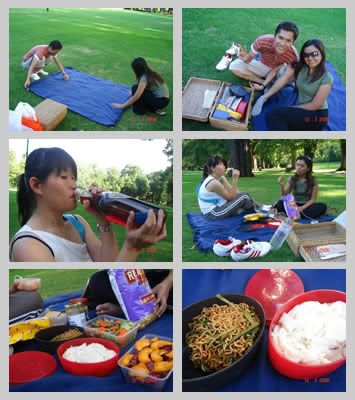 We had like French Salad, Mashed Potatoes, Noodles, Crackers with jam, Peaches and Grapes, A bottle of Grape-Apple Juice and a bottle of water and chips. As we munch away, we begin to plan for our next picnic. It was fun & relax. Just the three of us ... hehe


Got back home about 9pm and watched Silence of the Lamb. Eva bought the DVD. It was nice. A very good movie. Nothing in my interest but Jodie Foster was so darn good! Where did she learn to act like that?