On Sunday;
We went for a BBQ party with Grace's bunch of friends @ Jells Park, which is very far from our home. It is really a huge park with a major huge lake in the middle of it. The tracks are long and there are at least 10 BBQ pits at each section of the park. Many families linger there; the usual stuff - BBQ, picnic, party, food, lawn balls, dog-walking, kite flying, baseballs and you name it! Simple, friendly and lovely outing on a weekend. I am so glad to be invited to the gathering. There is just so much to see and experience.
The BBQ was fun. I had Nasi Goreng finally! A very nice girl brought a whole tub of it. I top-up at least 5 times. Yummy* I've been craving for rice since the day I arrived in Melbourne. Believe it or not; I only had rice one time since we arrived and that was about 4 weeks ago, back the days when I was still living in the city. We don't have a rice cooker and we didn't want to burn our rice, cooking via pot-style; so muah housemates and I decided to wait for Eva's mum to bring one over in a months time. Then, I am going to cook rice everyday! HOORAY! Well, the BBQ party was actually for our dearest Grace.
So, here are the pictures we took that day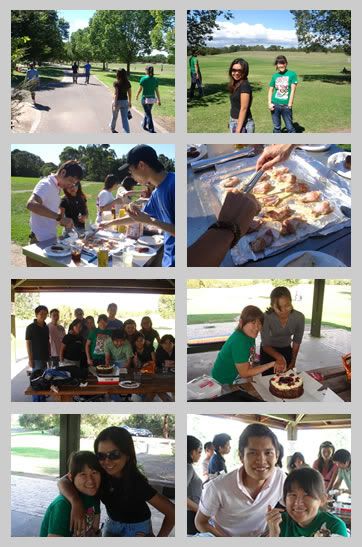 Monday;
It actually Grace's big day today! I am so happy for her! She started her day quite badly actually. I wasn't in the best of mood, thus I kept some discomfort to myself and tried to smile everytime when I am in front of her. Being her; she knows something was wrong. I felt bad for her for knowing and don't dare to ask. I knew it wasn't good nor it was fair to her, especially on her birthday. Somehow or rather, I manage to overcome the discomfot and gather the strengh to just put everything behind and live on - thanks to the bath tub which had accompanied me for 2 hours that afternoon. Love it to bits.
Anyway, her day started out badly. Vodafone mixed up our registration many weeks ago. We found all our number and personal details are actually registered to Eva - non to me and Grace. Grace wanted to change her telecomm carrier, so she had to call up Vodafone and terminate her account to transfer her existing number to Optus (Yeah, you can do that!). So, she waited and waited and waited for a very long time which wasted her time and being not able to settle the problem was pretty much annoying. As Eva wasn't with her @ Camberwell, we had to delay the task ... It made her mood bad but she was still looking forward for the dinner.
So ... after a few hours, a messy dressing up session and a wait for late-tram ... we are @ Sofia!
We had dinner at this beautiful, wonderful, well complimented and cheap place; Sofia. The place's portion is so huge! Italians ... Normal for them. The portion is a must-talk about! Do you know that we had to take-away some of our food! We order like 2 main and 1 entree (which was huge as the main!) and the portions are just too much for the 3 of us. One main course can practically feed two person. The picture did not do much justice on the portion; but the plate where the food is sitting can cover my face! I don't know how to say it; but it's huge! The amount of those food; including our drinks (and we didnt order cheap drinks!) came out to less than $50! That's like heaven! One seafood (with like almost 20 prawns and 10 scallops - yeah I counted!) pasta, One huge massive Calamari Rings (which we had to take-away), One Avacado Seafood - Shrimps, Squids, Scallops, Oysters; Iced Choc w ice-cream, Iced Coffee w ice-cream, Fantastic fruity juice, 1 huge jug of water... and not to mentioned the wonderful dessert - Grace's birthday cake! Ahahaha ... small but so fulfilling! ALL FOR 50! wait ... LESS THAN A 50! Man ... that was awesome! We vow to eat there every month! Just like a plain celebration - so grace gets a everymonth DEJA-vu.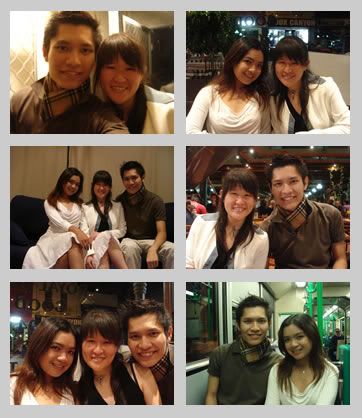 Nyek nyek nyek ... She was happy at the end. I love the pictures we had taken. Everyone was well-dressed and was genuinely happy and content. Hopefully we can find another place that is as great for Eva's incoming birthday. Happy Birthday Grace!