Let me summarize the entire trip...
Day One ( 06.07.06 - Thurs )
Kenny arrives after not seeing him for almost 5 months! As usual, he made his classy entrance at Tullamarin Airport and I gave him a suprise! Had lunch in a Japanese Cafe @ Flinders Ln. We ordered Okonomiyaki, Katsu Don and Unagi Don. After the mid-lunch, we headed home with a tram. Kenny was shocked that Burwood was so far from the City Centre. When we board off at the PLC Stop (Presbetarian Ladies College - although I prefer to call it P*nis, L*nJiao, C*ck). We did nothing much for the day as Kenny had a long day at Sydney previously so he took an 3 hour nap while I prepared him dinner. Dinner was sweet and sour noodle. We catch up and head to bed quite early.
Day Two ( 07.07.06 - Fri )
Groceries Day. We made payment for Philip Island Trip at Greenhouse Backpackers. Then, we went groceries at Queen Victoria Market. Bought Australian Shrimps, Scallops, Lamb, Greens, Onions, Potatoes and a whole lot of Vegetables. For lunch, we cramped into the ever so busy Mekong - Vietnam Noodles are awesome! Kenny loved it. We stopped at Camberwell while on our way home and headed to Box Hill for Asian Groceries. It was quite tiring and boring - the "normal days" of being a student; traveling all over the place for groceries with public transport. Was back home for dinner - I cooked Assam Fish and Eva cooked Oyster Chicken.
Day Three ( 08.07.06 - Sat )

The day begins by us waking up in the afternoon, travelling to South Yarra and dining at Pacific House. Kenny mistaken it for some Aussie Restaurant but ended up being a Hong Kie Restaurant that serves the freshest seafood. Veri veri veri mouth watering dishes! I love em. But it was lunch time and we didn't manage to order the dishes we wanted (only available during dinner). For the first time we had Singaporean Noodle friend with Curry powder. Weird but nevertheless not bad tasting. Then, we walked from one end of Chapel St to the end! I repeat -
TILL THE END.
It was a long long walk. We walked into some boutique, a pet store, a bookstore, a cakeshop that serves the most wonderful chocolate desserts (we bought 4) and ate them along the street. Then, we headed home - had a quick dinner (Salsa Pasta) and went to Manchester with Eva and Izmir for Swing Jazz. Had a Baileys and Cosmo! After Man. Lane, we headed to Lygon St for late supper - Italian pizza.
Day Four ( 09.07.06 - Sun )
Philip Island! Here we come ~~~ Boarded the GoWest Bus at Market St and took a 2 hours drive to the Curdies Wineyard. Wintertime = no nice views at grape field. Strong winds thou. Cold and Chilly. I love it. Kenny thinks I am crazy! Next stop; Maru Farm! I love that place. Get to play with a Wombat, took picture with a Koala Bear and pamper the Kangaroos and their Joeys which are so adorable, feed the ducks, 2 Llama, a notti lamb which bite my hand and saw some dingos. Pat a cute pony. Also, we witness the hungry tasmanian devil roaming in their exhibit - waiting for someone to put their hand across, so they could jump and bite. Saw a small Freshwater Croc and bought a really expensive picture taken with the koala. Then, we took a nice drive along the farm side and headed into Philip Island. Went to the Woomalai Beach, enjoyed the sea breeze and watched the roaring surfing waves hit the sands. After that, we experienced the strongest wind ever at Seal Rock (I think that's the name) and saw some cute penguins under the walkway! The main event was of course sitting in the cold waiting for the cute 30cm tall penguin parade. Really an experience worth paying for! Was hoping one would hop into my crumpler and let me take him home! Hahaha. Anyway, had Sofia when we were back in city. Kenny love that restaurtant!
Day Five ( 10.07.06 - Mon )
We met Brian for Lunch at Acland St, St Kilda. We got lost but manage to find a way through. Amazing how a guy who stays in Aussie for 3 years could board on 2 wrong trams in his neighbourhood. Hahaha... Funny guy! We had all time breakfast ala lunch. It was yummy*!!!. Then, Eva meet us for light dessert. She was partially blinded as the strong dry wind blew her contacts off her eyes! It was hillarious. All four of us sat in this Greek Dessert shop. While everyone indulge the most sinful and fattening dessert down their tummy - I dream of only one very greedy thing. To have more desserts! Then, we met with Wing and had wonderful lounge chat time at Westin enjoying Australian wine. Simon called - asked me to work tomorrow; literally beg me to it. I agreed. Had no choice. Kenny didn't mind but I felt REALLY bad. Cooked Meehoon Goreng when we were back home.
Day Six ( 11.07.06 - Tue )
Grace came back. Her boopies shrink thou. That aside, I went to work - LAST DAY! Was late for an hour but I don't quite care. Eva and Kenny accompanied me. Made sandwich for lunch. Eva and Kenny went to the city to top-up some groceries. They got lost too. Don't blame em'. Eva is there afterall. Hahaha. After closing at 530pm, we went to crown casino. I don't get the gambling. We tried thou. Only spend 1 dollar on a slot machine and lost it. I bet some staff from crown pressed the button on "dumb-ass playing; let's cheat him since he won't even know" button. We gave up after 30min being in the casino and went photo taking. After a whole lots of bright white camera flashes, we head home to cook. Dinner was paprik and tomyam.
Day 7 ( 12.07.06 - Wed)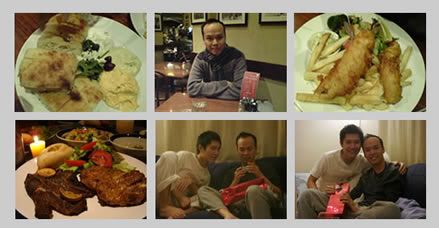 Today's Kenny ah boi birthday! We went and window-shop around Camberwell and Melb Central. Then we walked around the city. Visited theVictoria Library, the Royal Arcade, Myers. About 6pm, most shops are closed and the city became quite quiet. Still can't believe the 5pm closing policy. Not that I disagree but I think it's quite sad not being able to shop in the middle of the night. We had AN early dinner at Quarters. WONDERFUL food I tell you! - Loved the Turkish Dip and the Fish&Chip. Their Ice Chocolate also veri d nice ya'ol! Head home to cook dinner for the birthday boy. Dinner was a 5 course meal;
Greens with Lemon, Olive oil and Black Pepper
Butter Dinner rolls
Brocoli-Carrot with Melted Cheese
Lemon Honey Oregano Lamb
Mustard & Herb Lamb with Mint Sauce
After the scrumptious meal, Kenny open his present. Can't believe he actually thought I bought a 4dollar wine (which was a decoy) for his birthday! I'll leave the details to him. We slept very early. I was about to fall sick. Can feel my nose and body becoming weak.
Day 8 ( 13.07.06 - YESTERDAY)
Woke up about 7am and send Kenny off to Southern Cross Station. Don't wanna talk about it. I hate departures. Miss him alot. Really wish he never had to go. Had such a good time. Didn't know whether he enjoyed Melbourne but I did. I bet he did. I shall not be such a conspiracy freak ... Also, sending him off reminded me of Jenny, My bros, Leo and CYin sending me off at the airport. I miss ya'ol! Now I miss my family too ... sigh* BTW, I fell sick ...
PS - More tangible pics available w Kenny.