I love chocolates. When Sasha said she hated it. I declared her; not human. It's a lovely sunday afternoon, except that it rained and I couldn't find my Oxford shirt! ERGH@!/#@1p@##$%21!!! Of course, things got much better when the girls and I end up at Max Benners Chocolatarie, also known as Chocolate by the Bald men. Except there weren't any balds there but I do recall a VERY cute guy, around the corner. Come to think of it, there are alot of cute guys who goes there, frequently!
Anyway, I need to show you the pics! I can'e help it!!! Afterall, it is chocolates and I am very sure, it will do no harm. Let me introduce the sinful drinks and deserts ...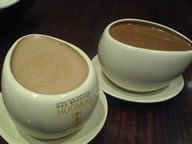 Italian Chocolate & Dark Chocolate Truffle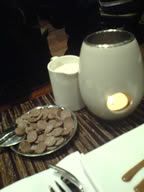 Max Benners Special Milk Chocolate - do it yourself - drink (comes w 3 different chocs too)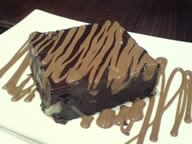 Chocolate Brownies - could be better! SHOULD BE MORE CHOCOLATIE!
Chocolate Babka - what a funny name :P
One thing I find amusing about the place is that the sittings are quite near to each other, so there is very little privacy between the tables. Whatever your neighbour is talking about, you are able to hear bits and pieces. It's quite cosy but of course, try not to be nosy all the time or at least keep it discreet if you are dropping ears on others! HAHAHA ... Also, the place is always packed! ALWAYS ... They are doing so much better than Starbucks. BTW, Starbucks is not a big thing here because they serve lousy drinks. I quote that from the Melbanians ...
Grace loving herself for melting the chocs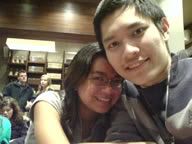 Eva and me (Do I look like I put on weight???)
Come to think of it, I am beginning to love the place. With just about 8dollars, you get good food and a wonderful drink (although they could try and make the drink warmer ... since it is winter!). I am beginning to like the city ... alot