Ah! What is with me and late post. Anyway, this year Singapore trip was ... hefty. I spend almost close to RM1200 on the entire trip. Majority went to shopping of course and you can now officially call me a CK Jeans ambassador. After the RM400 Jeans from KLCC ... I bought 2 tops and one key chain from CK Jeans at Paragon... what to do? They were on sale!
Food Republic at Vivocity is a must visit! The roof top food court is ... you gotta see yourself. Try the Hokkien Mee ... the only store with a queue and trust me ... it's worth waiting ...
Anyway ... the damage has been done but my bank is still save. My allocated budget was just ok. Although I didn't manage to get Xmas gift for everyone, I got for my family. Dad got two silk ties from Italy, Mum got a gold-dinner clutch bag, and both sisters got a pair of Swarovski earings. As for myself ... a lot la!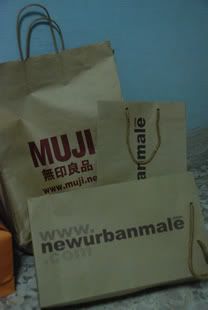 Oh ... not to forget my GA sun glasses and Swarovski Havaianas ... how diva!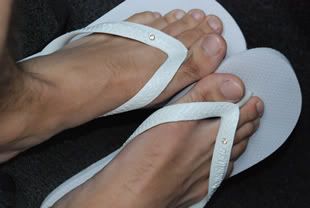 Er Ge, Miaomiao and I was having a great time. Walking from one shopping area to another, shopping from one shop to another, lingering through one anchor store to another. After a whole series of walk-arounds, I still like Paragon the most! The decorations at Orchard road wasn't the "best" thou. Better than last year ... but I expect more from it. This year's theme is of course fairytale and I love the nutcracker decos
AND Er Ge bought us to this place for fine dining dessert. I tell you ... yummy! expensive but it's definitely once a life time trial. Everything is so special ... my taste buds were tingling with excitement when I put the caramel cake along with the dark chocolate ice cream and cookie crumble into my mouth. DAMN!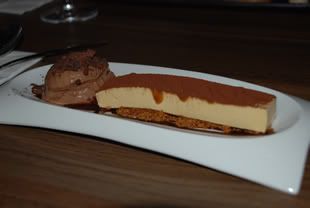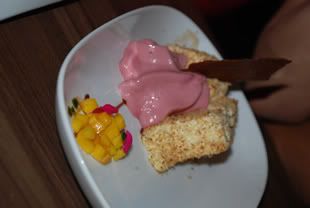 *I could feel fireworks and retro flowers glowing behind me ... after getting a bite from every dish! DAMN! Must go! Must go again!!!
Hmmm ... fun things aside, I did had my bad share of the day. On sunday morning, Miaomiao brought me to this absolutely cheap and delicious place for authentic singaporean food! I TELL YOU ... the food were awesome. Unfortunately I was having a very bad gastric and heart burn. As soon as we finish our food, Miaomiao wanted to rush me to the nearest pharmacy to get meds but the monsoon weather was so unpredictable. Before we could step out the food market - it started to pour, flooding the street and hazing the sky scrappers.
We had no choice but to cover ourself with a cardboard and run from one office's entrance shelter to another. Then, I vomited ... at three different place, after a meal and the pain was bad. Carrie Bradshaw used to say that at your worse time, when you are puking - the bested friends will hold your hair while you un-glamorously throw up and miaomiao was there everytime... holding my hair, sheltering me from heavy rain drops ... seeing me tears
How can I ever not love you miaomiao! I love you so much ... thank you for being there!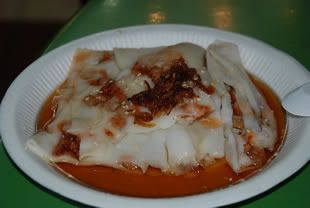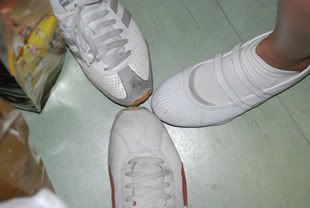 Then the night came, we went clubbing and I got drunk. Reason? I was sad ... and somehow, being the loser me ... I let my emotions took over me. As the music was playing No One, I gulp a jug of Vodka Lime and Joe treated me to a Tequila shot. After that, I was literally drunk ... and one thing lead to another, I cried heavily hugging Miaomiao. Damn ... it was ... erm ... embarrassing and I felt bad for spoiling her night. My eyes were so tired, I slept at the bar next to EKO and Miaomiao. Er Ge was mad ... he literally scolded me but still gave me a warm hug
Hmm ... sad things aside, we drove back to Er Ge's place on Monday and ... a bunch of us practice to Dreamgirls ... a suprise preparation for Er Ge's lo po chai. Hahaha ... It was so much fun ... and we are by far the most muscular drags ever. Mind you, I might be skinny ... but I do have a boyish arm (hair + lil potato = ok la punya arm)
Back to working life ... and saving up for Thailand next month. I wonder how will it go by then... Ooots ... I uploaded a few picture to be sold at 123rf.com too. Wrapped up a few design work, got myself a tutor for design classes and still manage to spend some quality time with my family. I guess that's the best time so far ...
I miss sleeping beauty, smokygirl, timtim and also the bunch of night guys. Hmmm ... must look for a time to meet them ... anyway just in case I don't see you guys :