I didn't enjoy the trip. It was mainly because I did not get what I want from the trip. Overall the vacation was quite stressful, tiresome and I fell sick. Totally the opposite from what you are suppose to get from a vacation.
Anyway, the journey to north began soon after I finished work last Monday. It was a bright morning and I couldn't sleep in the car. Moreover, my mum was chatting with grandma and I don't have the heart to stop them. With my tired eyes, fatigue and a mild fever coming up, we reached Kuala Kedah Jetty about 3pm. As soon as we boarded off the car, I started feeling much better and took out my camera
Pak Teh Enterprise - Very interesting business name for a small town
The boat ride to Langkawi was hell! The sea was rough and the ferry aks speedboat was no where near comfort. It was like a roller coaster ride, up down right left everywhere. The first 10 minutes was fun but after that, everyone started to quiet down. The ride lasted an hour. As soon as we got off, passengers started vomiting, some cried (kids of course) and some cursed away (I was one of them). Angela and Ariel was in such a faulty mood, they didn't even say a single word after that. Mum was dizzy and grandma – speechless.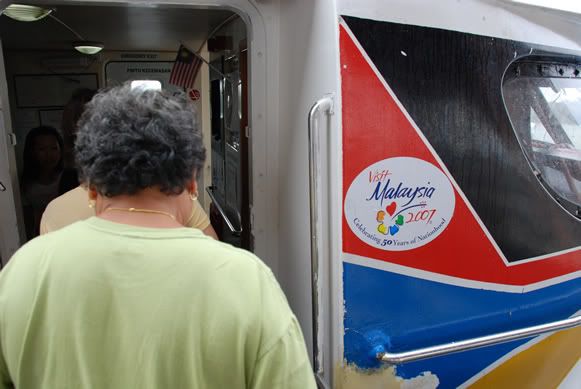 The Journey begins ...


The Ferry we took - RM18 for a whole lots of headache
For your information, I manage to get some advice from a local. She said that its advisable to travel before noon time to prevent sea sick and rough rides. Alternatively, you can travel further to Kuala Perlis Jetty by land (about 30-45 min) and take a Ferry from there where the route is smoother and shorter by sea ride.
Kuah Jetty lated and situated next to the airport. The room rates were very cheap. We got 2 family rooms, each with 2 queen size bed and paid RM 888 for 3 nights.
For the price, we got pretty bad housekeeping (no missing items) but we have to constantly ask for our toilet rolls, towels, door mats and also whatever that is missing in the room. As we stroll down the beach, it was shocking to see a pipe line and bridge across the sea. The resort was near an industrial factory and although there were no noises, the view was destroyed. Worse, the resort is located next to Damai Resort, deserted, and haunted.

If you look closely, the black line is the pipe, on top of it is the bridge
The good thing ever happened that day was of course the bath tub, which was huge and duty free shopping. Chocolates and Liquors are so cheap! SO SO CHEAP! A one liter JackDaniel Whisky is only rm55 and Hershey chocolates are going for RM10 for 5! Even dinner was cheap. My entire family had a meal for RM75 in the Kuah. Of course, Langkawi's city center, Kuah is only about 5-street wide. According to Mum, it was Mahsuri's doing - the curse where Langkawi will not be developed for 7 generations and a whole long story. Kinda funny I thought. As we all call it for the night, my throat began to ache.
.....
.....
.....

As day two arrived, the first thing we did was to exchange our rented car. Dad's seat belt is not working and the car has no validation license. JPJ was busy summoning drivers and of course, the companies which rented out the cars. Piece of advice, there will be a lot of human vultures scavenging for business even before you arrive at Langkawi. Learn to say NO, even if they were representing Tourism Malaysia! Hotel's recommendations are usually more expensive but I believe a marginal RM20 will save you a lot of time and give you a piece of mind. Also, try to get a Waja or Wira – their air conds work wonders. As soon as we exchange our Wira for a Kia, the air cond broke down. You don't want that in Langkawi because it's striking sunny and burning hot. If you have to travel at least 20 min every time you leave your accommodation to get somewhere with human or for food (like mine), you will curse your way.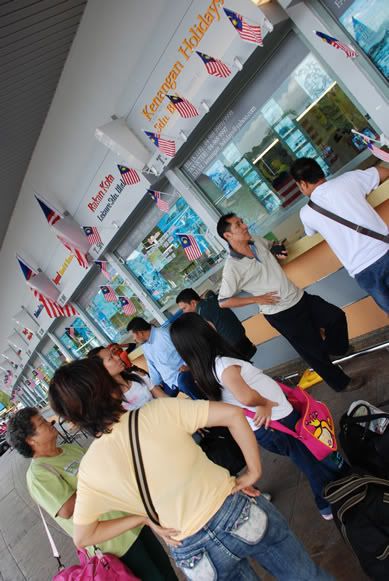 Renting the car - RM80 for Wira, a day without petrol. Not very cheap.
Second day; we visited Makam Mahsuri, Kuah Town, Jetty Area, Port near to Berjaya Resort and Langkawi Geo Park.

Unfortunately, no pictures are allowed at Makam Mahsuri (grandma disallow) except for this bird.
Makam Mahsuri was not that bad. Historical place. Took a long time to translate everything for Ariel. She look confused at the end with all the names and artifacts in the museum. I wanted to go into one of the wooden house but ever-superstitious grandma stopped me. Ghost. She even disallow me to take pictures; unless it's trees or birds.

As evening approach, we went to one of the private port near Berjaya Resort. The view was magnificent during sunset. It's located north west of the island and took about 30minutes drive from Langkasuka. I wish I had a private boat. BTW, the Geo Park, more well known as Langkawi Cable Car and the Telaga Tujuh is also situated near there. Kinda a tourist area. Did I took the Cable Car? No ... Why? Cos it looks so scary. The Cable car goes across two mountain peaks. No way I am taking it.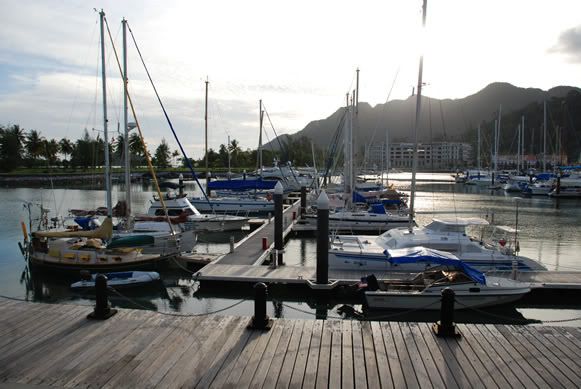 One of the ports near berjaya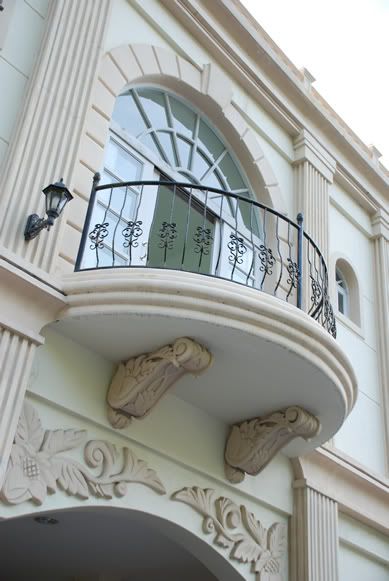 Beautiful ~ One of the resort next to the port

(l - r) Mum, Ariel, Grandma, Angela, and Me. Dad is photographer
More pictures to come in part II