I love cycling. That's mainly because the weather here allows it. I cycled down Warrigal Rd today to Camberwell Ashwood in search for wine goblets. They didn't have it, so I bought the picnic packs type - plastic; useable and durable and cheap! We bought wine and I don't drink them with mugs or cups which is only available here. The girls were planning a Good Fri dinner because Grace would be going for service on Friday and already has plans to catch Ice Age II with her church friend tomorrow night. So, we end up having the dinner on a Thursday night instead.
I shall skip the details of us cooking ... but I felt so bad ... I kinda burn Grace's and my lamb in the oven. I forgot to switch the temperature down after 15 minutes of grilling. So it went on with for another 20 minutes, practically coloring everything black. AGH! I am such a bad cook ...
The results; was something that look like that -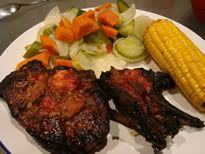 Mine was better than Grace's as I have added tomatoes on top of mine instead compared to Grace's piece which just has nothing but BBQ sauce. I am so sorry dearie! I shall treat you @ Sofia next time ya! Then, we had a meal accompanied by wine ... It was ok ... Everyone was red ... We had some nice, relaxing time listening to Diana Krall singing away and the meal wasn't that bad afterall. Somehow or rather, everyone was busy ... so it was a quiet ending for the night
After publishing this post, I would be soaking myself in a warm bathtub of water while listening to jazz and sipping the rose wine I bought. ... Am going to really enjoy the meaning of relaxation tonight. Well, what is the meaning of celebrating Good Friday and Easter without Easter eggs right>? So ... I spend a lil more money and got each of my housemate a gift.
I bought the small ones for the girls while the PINK one is mine! hehehe
Happy Easter Everyone!